Hi all,
Yesterday it was national holiday in Italy and everybody had a day off. What's best to have a bbqday?
The following recipe comes out from one of those moments when you look in the fridge and you just see some few remainders of the previous days. Nothing else but small and already unpacked quantity of food.
Then you wonder what you can do. You start imagine a combination of the random ingredients and, finally, you find a way!
PORK LOIN WITH FIGS AND 'NDUJA SAUCE
Note: 'nduja is a typical kind of salami from southern Italy, made with some fat parts of the pork, mixed with hot red pepper and then cold smoked.
COOCKING METHOD
Indirect @ 120-130°C, in kettle.
BRINE:
12 hours long
For every liter of H2O:
Salt [60g]
Rum [1 tbsp]
Chinese anise [1 tsp]
Coriander [1 tsp]
Black pepper [1 tsp]
RUB:
Brown sugar [1 cup]
Salt [1/2 cup]
Paprika [1/2 cup]
Black pepper [1 tbsp]
Grated nutmeg [1 tsp]
COOKING TIME:
3,5 hours
INGREDIENTS:
For the meat:
2,5 kg of pork loin
For the sauce:
Fig preserve [1 cup]
'Nduja [2 tsp]
Maple syrup [2 tbsp]
Balsamic winegar of Modena [2 tbsp]
Water [2 tbsp]
One scallion
Butter
PREPARATION
SAUCE
Brown a scallion in a butter nut, at low fire.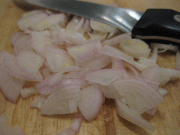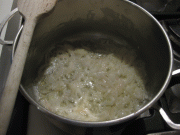 Mix aside the fig preserve
With the maple syrup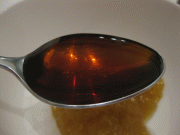 And the 'nduja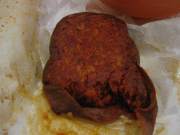 Add to the scallion the moment it's transparent and almost melted. Continue mixing and cooking at low fire until the 'nduja is totally broken down and mixed.
Whip the sauce, then let it rest until the temperature goes down, then add the water and the balsamic winegar.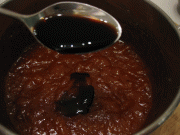 Mix well then put the sauce in a cup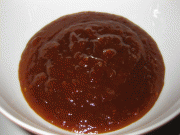 The sauce should be prepared at least one day in advance, so that the flavors can combine well durino the rest in the refrigerator.
MEAT.
Here's the pork loin (actually the butcher could have left a bit more fat on top!)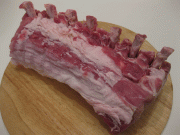 Combine the ingredients for the brine, make sure the sald is totally dissolved in the water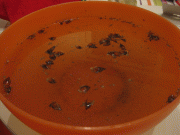 In a plastic bag put the meat and fill with the brine, then set in the fridge for 12 hours.
After the brine time, take out the meat and use towels to dry the surface as much as you can.
The brine should end a couple of hours in advance to let the meat reach room temperature bifore going onto the grill.
Spread on the loin a combination of 50% mustard and 50% honey (mixed together)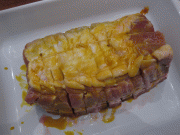 Apply the rub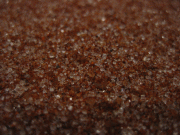 The entire surface of the meat should be well covered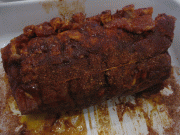 I've smoked the loin for 2 hours with some maple chips
Then cook for other 1,5 hours, until the internal temperature of the meat was about 65°C
Then I let the meat rest in triple aluminum foil – well tighned – for one hour bifore carving.
And here's the result.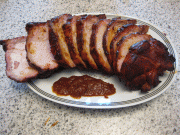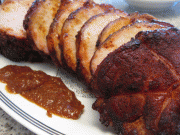 IMO the meat was very good! The brine provided a super tenderness and the rub – especially the nutmeg – was fantastic! But the real surprise to me was the sauce! Made with the remainder of my fridge. Ithas been actually the starting point of this recipe. It was sour, sweet, hot and bitter at the same time! Delicious.
Ciao ciao
zino
Sausage Burner





Number of posts

: 17


Location

: zino


Registration date :

2010-01-05



Fantastic Zino!

I am really interested in trying the Nduja salami, do you have a recipe for that?
Smokin Hot





Number of posts

: 1015


Age

: 54


Location

: Body in Cornwall, Heart in Africa


Registration date :

2007-11-07



Not sure you could really make nduja Mack. I mean obviously it is technically possible but by the looks of it it is a pretty local artisanal recipe and you need quite specific cuts of meat and I think you would have a hard time getting an accurate recipe. I have eaten it a couple of times (there is a stall in Borough market near London Bridge which sells it) and it is an absolutely brilliant ingredient. Definitely worth ordering in.
Charcoal Starter





Number of posts

: 35


Age

: 44


Location

: Oprington, Kent, UK


Registration date :

2008-10-25



Actually having said that I did actually find a recipe here:

http://lpoli.50webs.com/index_files/Salami%20Nduja.pdf

Which goes (formatting a bit dodgy):

N'duja – A smoked, spreadable Calabrian Salami

U.S. Ingredient Metric Percent
11⁄2 lb. Pork shoulder 680.0 g 28.5
11⁄2 lb. Pork belly 680.0 g 28.5
11⁄2 lb. Pork jowl 680.0 g 28.5
3⁄4 lb. Tripe, parboiled 350.0 g 14.5
2 cups Pepper red-hot, powdered* 175.0 g 7.3
1-1/3 cups Pepper red-sweet, powdered* 115.0 g 4.8
23⁄4 TBS. Salt 60.0 g 2.5
1 tsp. Cure #2 [optional] 5.7 g 0.25
Pork middles-well cleaned
 Totals 
6 lb. 2.7 Kg
This formulation is based on metric measures; U.S. measures are approximate!
* This particular recipe shows the concentration of pepper at 15%;
you might think that this is quite high, but in Calabrian salumeria
they often add 25% hot red pepper! This soft, spreadable salami is
meant to be extremely hot. This recipe is quite tame in relation to
Calabrian standards; of course, you may adjust the hotness or
sweetness as suits your taste. Traditional meats for this salami are
pork head meats, fat, lungs, chitterlings, kidney, heart and pork
trimmings-all cuts that are left after slaughter on the farm—not a
sausage to eat if you are watching your cholesterol! You'll note
that no starter cultures are used as it is a home style
"traditional" formulation. Optional: You can add 0.2%
Bactoferm LHP Starter to be safe, if you wish.
Method:
1. Parboil the tripe for 90 minutes; rinse well in cold water and cut into 1⁄2-inch square pieces and chill
to 38oF.
2. Grind the tripe through a 1/8-inch [very fine] grinder plate.
3. Cube the remaining meats and chill them to 38oF; grind them through a 3/16-inch [small] plate.
4. Mix all the ingredients together stirring them well to distribute the spices.
5. [note: cure #2 can be added for safety-traditionally the high salt concentration seemed
sufficient]
6. Stuff into very well cleaned and washed pork middles [traditional] or beef middles. [Note:
Pork middles really ―stink‖ unless properly prepared—see my tips page on the web site!]
7. Smoke several hours a day for 8 days, and then hang to dry slowly for about 6 weeks.
8. In Calabria it is often used as an antipasto by scooping some out of its casing, warming in a terra
cotta pot and, when softened, dipped out with toasted or dried bread. It can also be added to pasta
sauces or directly to hot pasta. Enjoy an ancient treat!
Charcoal Starter





Number of posts

: 35


Age

: 44


Location

: Oprington, Kent, UK


Registration date :

2008-10-25



Great job Adam!
I confirm every single word you wrote.
the 'nduja is absolutely tasty in the pasta as well!
We use it everytime we need a fat+hot ingredient, thereferore it's good almost everytime

Mack, take care if you want to do it at home: safety first!
cure is not an option, but it has to be done in the right way, which is not easy at all.
I suggest you to order and buy the original 'nduja, so you can first taste the real flavour. then maybe it's easier to do it by yourself.
ciao ciao
zino
Sausage Burner





Number of posts

: 17


Location

: zino


Registration date :

2010-01-05



Thanks guys!
Will look to see if I can get some online, before having a go at it.
Smokin Hot





Number of posts

: 1015


Age

: 54


Location

: Body in Cornwall, Heart in Africa


Registration date :

2007-11-07



That is a thing of beauty! that had to be good!

King of Q





Number of posts

: 231


Age

: 50


Location

: Belgie - (Belgium)


Registration date :

2008-11-02





Similar topics
---
Permissions in this forum:
You
cannot
reply to topics in this forum