Hi,
I've just bought the ProQ cold smoker. I have been trying to source a good container for use as the smoke box (something I can leave outside), however, I just had the idea of using my patio chiminea. It's a relatively large one and has mesh doors so might not be ideal but would it work for now? It looks like this:-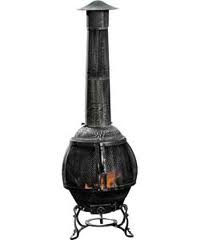 Cheers
James
Sausage Burner





Number of posts

: 7


Location

: Christchurch, Dorset


Registration date :

2012-02-05



Try it and see, but I think there may be too many places for the smoke to escape.

I am using the EcoSmoker, which is essentially a cardboard box with racks in. You would be able to fashion something similar quite easily - take a large cardboard box, and put a small oven tray inside, as something for the cold smoker to sit on. Fashion some kind of rack above it, and close the box, Make a small half inch hole in the top, and another in the side, close to the base.

If you want something weather proof, try a plastic storage crate, of the kind that Tescos and Asda sell; making the holes, as appropriate.
Sausage Burner





Number of posts

: 5


Location

: Chris Malme


Registration date :

2011-11-20



Thanks for the info. I was afraid there'd be too much leakage. I'll continue hunting for something more appropriate. I'll try the cardboard box technique as you suggested for now and put it in the greenhouse to keep it dry. I know it's a cold smoker but I really don't fancy a plastic box, it feels wrong somehow. I might construct something out of the wood I've amassed in the shed.

Thanks again

James
Sausage Burner





Number of posts

: 7


Location

: Christchurch, Dorset


Registration date :

2012-02-05




---
Permissions in this forum:
You
cannot
reply to topics in this forum